Hello Guys, Today I am here to share how to add colorful buttons without doing any coding. Almost all the WordPress theme has some shortcodes for buttons. These short codes are quite difficult to remember for all. Also, the built-in buttons come with themes doesn't look awesome. Buttons that comes with my theme are also not so good.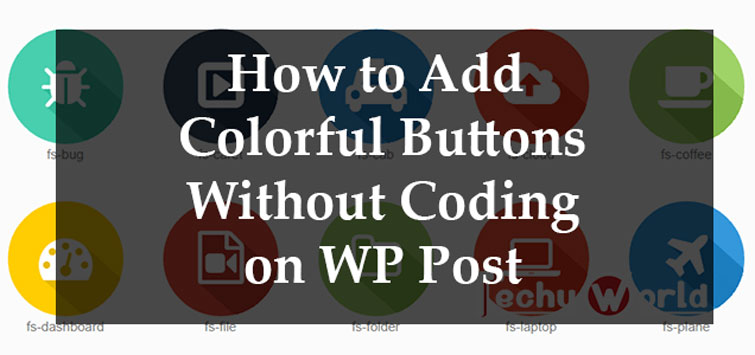 This is why I had to use HTML/CSS3 to create nice looking colorful buttons earlier. It was quite difficult to create custom coded buttons every time and I was searching for an alternative.
Today, I have found an easy solution to this. There are few plugins that can help you creating colorful and awesome buttons as well as help you to create great articles. I have tested 8 plugins and found Forget About Shortcode Buttons as the best. This plugin can be run on all WordPress websites that are built on version 3.9 or higher.
Has your website become Laggy? Consider Reading
What's the wait for? Hover your mouse to Plugins > click Add New from the left side on your Dashboard.
In the next screen type the name "Forget About Shortcode Buttons" on the search box and enter. Now install and activate the plugin.
You are ready now. You have the plugin installed and you can create nice buttons on your posts.
If you want you can manually download and install the plugin also.

Let's Add Colorful Buttons On a Post
To do this simply create a new post or if you want you can edit an existing post to place buttons. I am going to create a new post and showing you the interface and using the method of this plugin.
While you create a new post or open an existing post to edit you will found an icon like the picture below.
When you need to insert a button click on that icon. You will see a popup like below
There will be nothing but a small box. Type the text that you want to display on the icon and also fill the destination Url from Properties Tab.
You can also change the background color and the text color of the button. There are six types of gorgeous buttons you can get with this plugin Flat, Flat Rounded, Glossy, Glossy Rounded, Pop Cut, and Pop Cut Rounded.


All the buttons come with five sizes Extra Small, Small, Medium, Large, and Extra Large. Depending on your needs you can modify them. Also, you can setup different icons on your button from the Icon Tab.
Conclusion
This is it, you can configure and set up colorful buttons and create a gorgeous post, page or content on your WordPress site. I think you have understood how to install this plugin and how to create colorful buttons without coding knowledge. I hope this plugin will help you a lot. Guys if you benefited from this article then share it on your Google+ Twitter and on Facebook. Your one share will worth of my effort.
Note : If you have any question or problems regarding this article then feel free to write it in the comment box.