Best SEO practices can give you the ultimate pleasure with your website. Because you will get lots of visitors by doing best SEO practices. Most of the people create websites to make money online. Lots of visitors come to a website when it gets popular. And then the game starts, your website starts to give you money. Either you sell your affiliate products or can show visual ads to your viewers and make money online.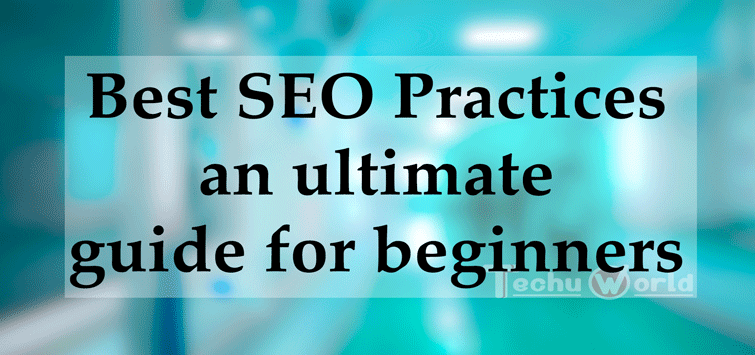 Each and every planning related to your blog is to bring visitors. You can get visitors from Search Engines like Google, Yahoo, and Bing etc. If you have an established group or page then you can also get a lot of visitors from social media also.
After launching your website you might get thousands of visitors from your fan page today. But they won't come every day if they do not find interest on your blog. But there might be more peoples who love your interest and they are searching that on the internet.
If you want to bring them on your site then you must rank higher on Google search. You can reach there by doing best SEO practices. Best SEO practices mean doing exactly those things which are required by Google bot to rank your page higher for a specific keyword.
And now the question is, exactly what Google bot requires from a page to bring it to the first page in search result?
This is the most important and common questions among bloggers. And the actual answer is unkown. Basically, there is no exact answer for this question. How could anyone give the exact answer, as SEO is a combined result of thousand tactics! Finding the right answer you might be frustrated as there the World Wide Web is filled up with right and wrong information about SEO. Actually, search engines are getting updated day by day and old methods are kept on the internet. So, it would be very difficult to you to find the right page and making sure that you are not reading a crackpot theory that sounds much without giving you the results.
As others can, then you can also bring your page in number one by doing best SEO practices. A person does the best SEO practices and brings his page higher in the search result.
SEO is not like making a configuration to give its best output (like setting up a ringtone on a mobile phone). It's a continuous development process; you apply something then see the result and apply something else to see your page in the number one position. SEO cannot be done overnight. It's a process that never ends.
I am not saying that you will be able to bring your page first after reading this content. But you will be able to create the foundation of SEO for your page. You will need further study on different aspects of SEO. Now, hold tight your chair because I am going to describe
5 best SEO practices that work in 2017.
Finding out best keywords for your website (keyword research).

Do Google friendly site modification and development.

Writing awesome and unique contents.

Best SEO practices with On-Page and Off-Page modification(Google search console)

Doing website analysis and making improvements.
Are you worrying about Link Building? No worries, you do not need to do any link building for anchor texts as it is useless to Google bot now. Old SEO tactics do not work today. Qualitative contents and best SEO practices could bring your site higher in the search result. Focus on creating awesome contents on your desired keyword and do best SEO practices on your site. Now let's learn these five steps
1. Finding best keywords for your website.
Like stamina in a human being, keyword helps a website to compete with other websites and standout first in the competition. People do search on Google or Bing or Baidu for something and they visit the pages that come first to them. If you want to make money online from your website then you have to find most searched keywords or key phrases. And then have to create content using those keywords on your content. Find 5 – 7 keywords for your website you want to rank for. And start to write great articles based on your keywords. You can use the tools below to do Keyword Research.
These three tools are enough to help you to find your right keywords. Here is a video that shows how to do best SEO practices with Google Keyword Planner.
Pro Tip: Creating a money making website is a great idea. But it's difficult to find the right niche and right keywords. Take your time and ask your mind what you love to do, in which topic will u be able to write well? It could be mobile phones, laptops, gaming accessories, foods, alcoholic beverages, camera, cars, home supply, baby health, bikes etc. Go with a niche that you love from the core of your heart.
Google loves rank higher those sites that follow the rules required by Google bot. There are lots of things that you need to care to have a Google friendly site.
Faster page load speed.
Using SEO friendly theme.
Choosing search friendly URL format.
Proper URL canonicalization.(duplicate content)
Creating Google-friendly Sitemap.
These are the 5 most important factors that help you to create a Google-friendly site. No one loves a slow website so try to make a website that loads fast. Almost all the theme publisher creates SEO friendly theme now. About faster page load speed and SEO friendly theme I have discussed on how to get faster page load speed in word press.
Search friendly URL format is a big factor. Suppose you have written an article on Cute Dolls. Now look below and tell me which one says the theme of your content?
www.techuworld.com/547sa245342&dolls
Obviously, the second one would be the answer. Keeping the keyword of the content on the content's URL is a good idea as it gives an idea about your content to search engine. Always try to avoid stop keywords on your URL.
Google has a penalty option for sites that uses duplicate or copied contents.  It's a very smart system for which it would be difficult for others to copy your content. The system handles a robot. Sometimes, the robot penalizes web owners that don't care about duplicate content.
I am going to give an example to make you understand the matter. See the links below
https://techuworld.com/cute-dolls
Http://techuworld.com/cute-dolls
You can easily understand both the URLs are going to show you same content from the same website. But Google bot sees two different links has same content so you can assume what next will do it. So be careful about URL canonicalization. Use only one version of your website either www or non www version. Check my website, open a tab on your browser and type "https://techuworld.com" it will be redirected to https://techuworld.com. To get rid of content duplication penalty redirect your website's one version with another one. Check this content to learn more on how to redirect non www to www URL.
Well done, as you have completed all the tasks. Now it's time to create a Google Friendly sitemap. Creating a sitemap is a very simple and easy task. See this content to learn how to create Google Friendly Sitemap.
3. Writing awesome & unique contents.
Contents are the backbone of a website's SEO. Google loves unique contents in the case of SEO. Writing unique content is one of the best SEO practices. Days back Google bot used back links to rank any content but the scenario has changed. Google bot has updated its algorithm and now it is prioritizing good contents to rank higher in the search result. So write good and unique content to beat other websites. There are no substitutes to unique contents for higher ranking today.
Pro Tip: Try to clear everything in one content. Highlight each and every point that is important. Creating two or three contents on a single topic is a bad idea. And don't forget to share your contents on mass social media. Social media like Facebook, Twitter, Reddit, Linkedin, Tumblr are great sources of traffic.
4. Best SEO practices with On-Page and Off-Page modification (Google search console).
Best SEO output comes from proper dealing with on page and off page SEO.  On page SEO practices can help you to improve SEO of your content and off page SEO will help you to improve your search engine position. Proper configuration of on page and off page can bring you higher in the search result. In this step of work, you have to create a sitemap.xml file and submit it to Google bot.
10 best On Page SEO Practices
1. H1 ~ H6 heading tags with focus keywords.
2. Proper Meta tags with keywords.
3. URL with keywords.
4. A good visual graphics.
5. Use keyword minimum one time in 'alt' text.
6. Maintain 1-2% keyword density in the text.
7. Try to highlight everything in a single content.
8. Write longer contents as longer content ranks higher than a small content.
9. With keywords, enrich your content with LSI keywords.
10. Check and double check before publishing your content.
These were the basic SEO practices for on page SEO. Start to write contents maintaining these 10 SEO practices and within next few days, you will start understanding about advanced on page SEO practices.
Say to say off page SEO means doing improvement of your site's content depending on some analytical report. You can use Google Search Console tool to do off page SEO practices.
5 Best off Page SEO Practices.
1.Start off page SEO by solving Crawl Errors. You can do this by removing expired links from search console from Google URL removal tool.
2. Removing DNS errors, maintaining 99.99% Server Connectivity and proper Robots.txt are crucial getting better search ranking.
3. Check your robots.txt file for errors. Go to crawl > robots.txt tester and check your robots txt file.
4. A sitemap tells Google bot how and which link to index and show in the search result. Without having a proper and structured sitemap you cannot rank higher in the search result.
5. Data highlighter, html improvements are also good for doing best off page SEO practices.
Pro tip: You might hear about link building as an off page SEO technique. But it doesn't work today and forget about link building. You can post guest posts on popular blogs to bring visitors from any popular website. After publishing few contents, check and double check if there is any error in your robots txt file. You can edit your robots.txt and sitemap from Yoast SEO plugin.
5. Doing analysis and making improvement.
Great, you have done with all major SEO practices. Now it's, time to boost your SEO ranking on search engine and double your visitors. Google Analytics is the best tool for analysis and doing improvement based on analysis. There are few tasks that you need to do in Google Analytics tool.
1.The first task is to write few (70-80) awesome contents.
2. Start doing the analysis of your current SEO status from the date of submitting the last content.
3. Now do the best SEO practices with Google Analytics tool. See the video tutorial below and learn how to double your SEO ranking with Google Analytics.
These were the best SEO practices for a beginner. Like a one day aged baby cannot eat a burger like a newbie cannot absorb everything to do the best SEO practices.
Conclusion of best SEO practices
Well, we have come to the end of the guide of the best SEO practices. I have tried to share with the best SEO practices tricks. I have shared the proven tricks that work today. As it was an introductory SEO content for newbies, I might skip few tricks that could be tedious to newbies. I have covered almost 70% of best SEO practices in this content. Further advanced SEO practices might help you to reach your goal by 95%. Do your best SEO practices and come on the track. If you knew something new then don't hesitate to share it in the comment box.