Clash of clans, who would have thought, right? This era will be rightfully called the era of the clash of clans. With the dawn of play store and android /iOS/Microsoft mobile games, there have been countless games as applications which you can easily play according to your mobile form. For examples- games like piano tiles, color switch, temple run, cutting the rope, angry birds, fruit ninja and what not. These are just some of the most popular games that have been played over the time. But I mentioned these names because they have been popular, stayed popular for two or maximum three years. Most of them were even games of the year and then just lost their application.
Why did this happen?
The possible reason is that these games are not designed in a way that you can actually go with them for quite a long time. Players cannot plan anything. Basically, they are just passing the time and getting entertained from those games. Except for entertainment, there are no actual goals on these games. Even if there are levels, there are complexities regarding the levels being unlocked and connecting to the google store to pay for them to be unlocked. Ninety percent of the people play because they want to pass their time, not their money. So there are very low chances of the aforementioned games to have a good and firm stay on the market.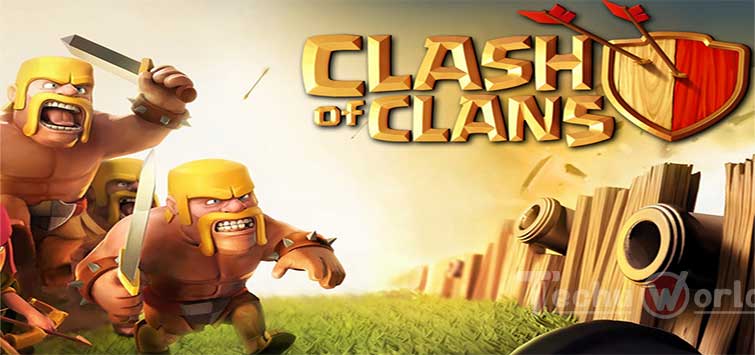 What is so different on the Clash of Clans then?
You can either trust my words, or you can just simply ask one of the clashers to describe this game in one word. And they will use the word- addiction. Not the kind of addiction which kills you and is bad for your health. It's a  kind of addiction which will push you further and keep pushing you until you get there. And it is actually a game in which you are going to spend even years to 'get there'.
Let us clear this concept without further discussion, shall we?
Clash of clans is a game basically purposed for clans to take participation in wars. Then compete others to get war loot and upgrade their clan level by winning the wars. But basically, when you first start on your own, you will be given a town hall along with a village of your own. The town hall will be level one, and you will have a ruined clan castle. You will have to rebuild with a certain amount of gold. That is one more thing, in this game you will be given ownership of four possessions, gold, elixir, dark elixir, and gems.
Dark elixir will not be stored or collected in the beginning of the game. It will be introduced to a clasher after he/she has made it to town hall level seven.
Gold and elixir storages one each will be given on town hall one, with two gold mines and elixir collectors. And the clasher can shop two level one cannons for the sake of the defense of his/her village. This town hall is basically good for nothing, and you will not be able to join any clan unless you rebuild the ruins of the clan castle, which is going to cost you a huge amount of gold you will only acquire after upgrading your town hall to level two. However, when you join a clan, things get interesting. You will even have a chat box where you can connect and communicate with your clan members, and you will be able to request for additional clan troops, which will accompany you in your attacks, loot attacks, and war attacks.
You will be given two builder huts at the primary stage. These are basically the upgrading systems. The more builder huts you have, the more upgrades can be processed hand in hand at the same time. Builder huts are some kinds of assets in this game. There are five huts altogether, and you will have to buy the third, fourth and fifth hut with gems.
You can either play day and night to fulfill and unlock certain achievements that will gain you gems in free. But if you are not that much of a patient gamer, you can always just buy them from google store. But see, here is the thing. You will not compulsorily have to buy them. All you have to do is just fulfill the achievements, like clearing obstacles, getting onto new leagues by increasing trophies, scoring war stars, upgrading the clan castle and etc.
But trust me, you will play with utter interest. Clash of Clans is called addiction for no reason. You have got an entire village of your own and you have to keep it perfect. This sense will give you satisfaction and will push you to play further. Until town hall seven it will just be a game of upgrading, but you will get the taste of the real game in town hall eight and nine.
Town hall nine is the hallmark of this game according to me. It is the peak point of this game where you either lose interest, or you go directly to town hall 11. Town hall nine will take a lot of time, even a year if you play moderately, to be max. but once you have got a max town hall nine your further steps for this game will be strong and exciting.
Conclusion 
It is true that Clash of clans has actually made its players addicted. I have seen fifty percent of the players firstly despising the current clashers, and then becoming a die hard clasher themselves once they start playing this game as well. You will get attached to this game once you have started playing. But there is also remedy for this. Supercell will not let you get too harmed, they have personal break times and maintenance times when you won't be able to play even if you want.
It is a creative and interesting game, but only if you can get a hold of your gamer self.