Well, you have come to the right place where you will learn about how to start a blog for free. It's difficult to say free blogs are good for xxx types of publisher's or good for xxx purposes. There are tons of pro and cons of free blogs. Forget all of them and concentrate on how to start a blog for free now.
For free blogging, you do not have to think about domain name registration or hosting. Because you are using both of them for free.  There are lots of free blog service providers online. In one of my previous post I have mentioned few best blog service providers name. Among them I do prefer blogger.com. And now, I will use blogger.com to show you how to start a blog for free.
Blogger.com is managed by Google and one of the best free blog service provider. To start a blog for free here you just need a Gmail account. I guess you already have a Gmail account.
Lets see how to create a blog for free at blogger.com
Go to www.blogger.com first and click on create your blog.

You will be taken to the login page same as Gmail login. Login to blogger.com using your Gmail credentials.

Now create a limited blogger profile or Google+ profile. I am going with limited blogger profile.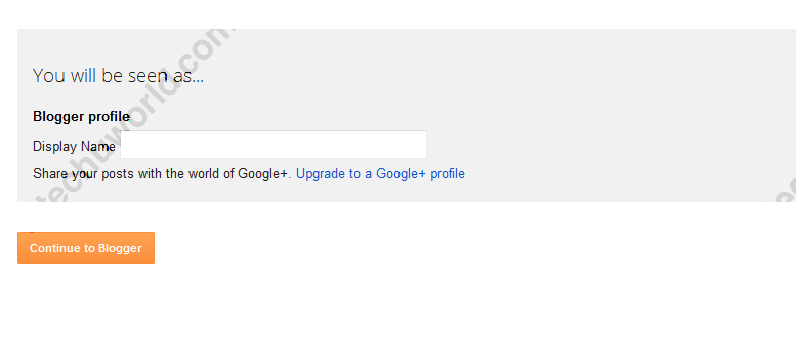 Put your Blogger Profile name and click on Continue to Blogger.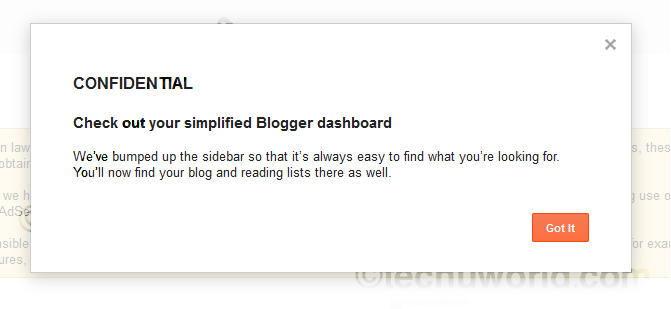 Now you will see a confidential message and click on GOT IT !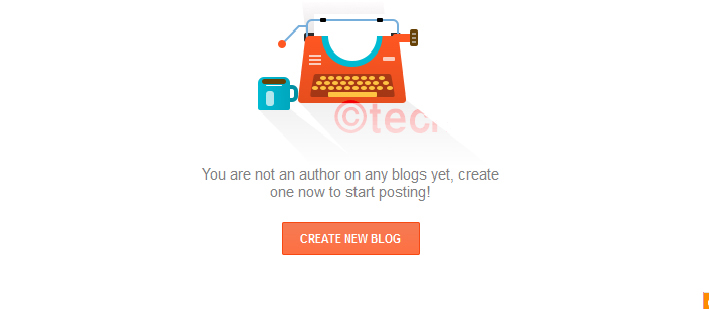 Now you are in blogger's dashboard and click on Create New Blog located in the middle of the page. You will be asked to choose your address (like domain) of your blog and write the title of your blog. I am giving the title of my blog as Techu World and giving the address as www.techuworld.blogspot.com . Lastly I am choosing a template (SIMPLE) for my blog. You can change it later.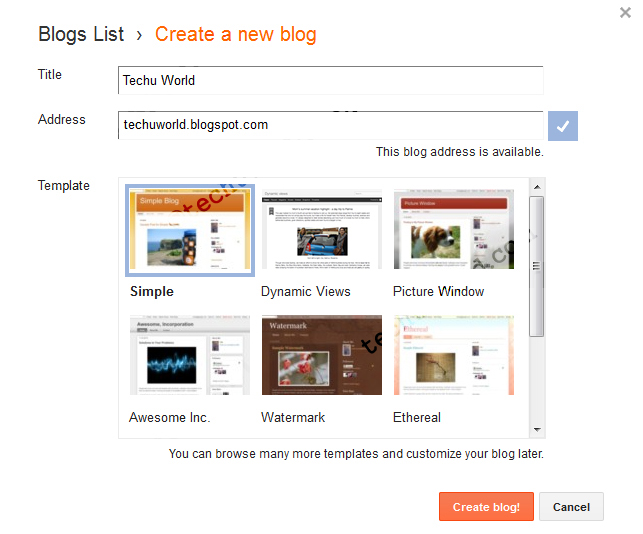 Okay you are done with your free blog. Now it's time to create unique content and post them on your blog. Never try to copy paste contents from other website. Do not chase the money first time, just focus on how to start a blog for free of cost and establish it.   Write unique and informative contents of your interest. Try to write on anything that you know well and can make understand better to others. After having few contents on your blog site you will have few visitors on your site. This is the right time to register a domain name and buy hosting as well as convert your BlogSpot site into a WordPress site. Now you can start doing SEO for your site and get thousands of visitors every day.
Now it's the time to turn your passion into income. There are lots of ways to earn money from your blog. You can add AdSense on your blog; also you can add affiliate links to your posts.
I guess you have understood the total theme and can start a blog for free now. If you get a simple help from this post then please share this content. Who knows your friends/relatives might be thinking about how to start a blog for free. This post may help him/her.