There are certain rules and regulations you must be aware of while getting started with SEO. Otherwise, you could get ended up on the wrong side of the road. You would not want that to happen, now, would you? Nobody wants that to happen. But you do not have anything to worry about or panic. I am here, and I will be providing you the beginner's SEO tips that no one might ever be told you before.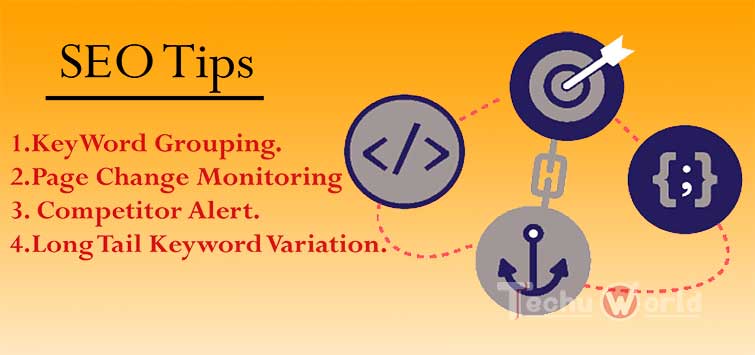 So buckle up fellows! Let me light you up on your do's and don'ts in the world of Search Engine Optimization! You should never underestimate your duties and responsibilities, and that is something very basic in the list of your must do's. You could already throw everything at stake by neglecting your duties and overlooking your responsibilities. Even if you are not giving all the importance of your life to this, still you will be doing it wrong if you do not know these hacks below.
So here we go. Let me mention Four most important and significant SEO tips to help you doing SEO for your website.
KeyWord Grouping.
Page Change Monitoring.
Competitor Alert.
Long Tail Keyword Variation.
Now let's discuss these
All SEO tricks in detail
1. Keyword Grouping
Organizing keywords are one of the most important tasks of your work which will make you feel less lost and panicked. Even the most senior persons here will rarely do this as it is actually a difficult task. But if you take the risk and do it, there are chances you will be the winner. Different search engine optimization and tools and equipment do this task differently, but the preferable way to do this is using the same clusters of the top 10 search results website URLs. You can use Excel or Adwords editor to do this job more efficiently.
2. Page Change Monitoring
This is literally a life changing hack. With page change monitoring you can actually get notified about the changes being made on a page while the SEO is working with it. This tip is more crucial for the people working in larger companies with more clients and agencies or webmasters. You will be aware of the sudden changes made in the websites even if you are not being informed by the webmasters, and you can go along with the changes. Google has larger consequences for small mistakes, therefore, it is, however, very crucial to know about the adjustments before reaching the conclusions. Visual Ping and ChangeDetection.com are some help which will be offered to you.
3. Competitor alert
You will have to be smart enough to know about the rivalries going on in the world of SEO. Try to keep up to date with your competitor's adjustments and developments by watching their ranks regularly. SpyFu, SEMrush are some of my favorite websites to do so.
4. Long Tail Keyword Variations
This tip is often overlooked because of the less traffic it receives. But it is most vital for the companies willing to get Highly ranked on the Google. Use KeyWord Planer for this section. 
Conclusion
These were some important SEO tips and tricks which the earlier you know, the better. I wish you a very wonderful and creative journey at the SEO with these SEO tips.