SmartPhones have dominated the cell phone industry. From a 1st standard kid to grandpa like old people wants to have a smartphone today. Because of using lots of heavy apps; almost all smartphones are giving us a short battery life. Being an owner of a smartphone, one of our daily life regrets will be never having enough charge on our phone.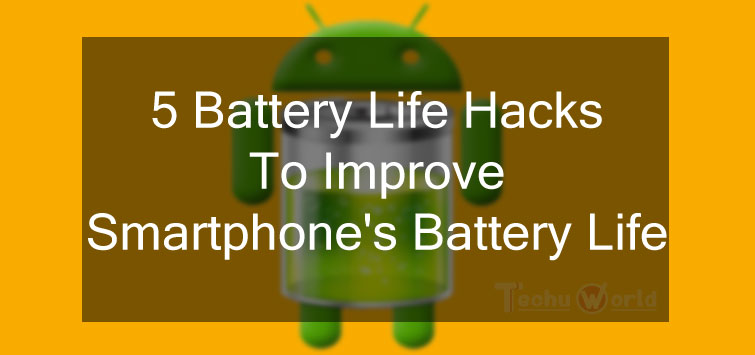 These not-so-smart smartphones are making the impossible possible, are reaching for the stars, yet they cannot reach the lowest point of battery goals. It's such an irony. Makes us choose the old school phones with badass battery lives over these low battery life smartphones. But then again, in these days life is almost impossible without smartphones.
Then are there any solutions for this unwelcoming problem? There are no permanent solutions, but I sure do have some battery life hacks that will increase Android battery live. I would love to share with you guys!
5 Battery Life Hacks to Increase Smartphones Battery Life.
Turn Off Vibrations
What? Vibrations? Yeah, you heard me right. All these times you may have believed customizing your profile into vibration from general will cause less usage of the battery. Guess what, false alarm. They actually feed off your phone's battery. So turning off vibrations and 'haptic feedback' while using the keyboard will save you a lot of battery!
Also, Read My Latest Post On,
  Download Lots of Black Wallpapers
Generally, you are most likely to be the owner of an Android system with AMOLED display. This display system is built in such a way that it will illuminate colors by wasting the battery while it does so. Therefore, using black wallpapers will save a lot of battery in this. A wonderful way to express love for the gorgeous color of black, isn't it?




   Stop Tracking Your Location When You Know Where You Are
There may be several applications on your phone which require your location and track it. You may see the GPS sign searching for location every now and then. Well, turn it off when you are not possibly lost because this is using a huge percentage of your battery. So do not forget to turn off those applications when you are not doing anything important on your phone.
Love Playing Games? Then The articles Below Might Be Good For You.
 It's Time To Update Your Phone
If you are like me, then you also clean notifications of upgrading your smartphone. Somehow we always become very reluctant in the case of updating our Android systems, though it hardly requires any problematic event. And even more importantly, updating your Android from time to time can give your battery life a quick boost, and make it a bit more dependable. So why not take a chance?
 Auto-Synching Won't Do Anything Good If the Battery itself is Dead.
It is very natural to keep the option on for auto sync as we keep adding new contacts into our phones. And Gmail, Twitter, Calendar, Gallery, Facebook, and every meaningful application require routine auto sync. But I would suggest you keep it turned off unless you have some very important work to do. Because auto syncing requires a lot of battery charge and thus you would not even know where all your battery is going.
Conclusion
Try these formulas to enhance your smartphone's battery life a little bit, and I would finally tell you not to scroll your phone aimlessly when not needed. This wastes your battery AND time up to fifty percent of dreading, believe it or not.